Can I be honest here?
Cal Exotics should take a cue from some of the boutique companies that make few toys but make them well. CEN just keeps pumping out toy after toy and I can't even tell them apart anymore. The L'Amour™ Premium Silicone Massager – Passion "G" is highly reminiscent of the Couture Collection, the name is a mouthful and a bitch to search for on their site. In short, there is absolutely nothing remarkable about this vibrator except for the fact that it uses 2 AAs, something I am glad to see because I am strictly anti-AAA battery.
The box and website describe a "[c]ontemporary intimate high quality massager" that features 7 functions of vibration, pulsation, and escalation while remaining quiet. The functions are easy to use: one button is a dedicated power switch while the other cycles through the settings. A light appears by the buttons when the toy is on to help you see but why it is red is beyond me. A nice white would better match and appeal to my sense of aesthetics.
In terms of shape of size, it's a rounded, typical insertable vibrator. There are some grooves that run lengthwise to offer additional stimulation but sort of just look like the mold was mis-shapen. The plastic base and buttons are white with silvery details. The shaft is straighter than some might like; although, the silicon offers some flexibility. Of course, those you like firm G-spot stimulation might find that to be a hindrance to their enjoyment. The L'amour Passion G is 6.75" in insertable length, with a 1.5" diameter. It's a decent, mid-sized vibrator that isn't overly intimidating. The soft blue is also quite welcoming in appearance.
Like every other CEN toy I've ever seen, this one is waterproof. That usually doesn't win me over, though. I'm not much for playing in the bathroom but, if you are, this might be a plus. This is also a characteristic that all the non-rabbit, L'amour vibrators seem to share and none of the shapes are necessarily varied enough that I would recommend one over the other. Like every other vibrator, CEN states this is quiet. Whisper quiet? I think not. You don't need to hold it to your ear to hear it. Will it wake the neighbours? No but.. eh.
The price point for this entire line also seems ridiculously high. You can get a silicone, G-spot vibrator for $10-$15 than the MSRP. For such a basic piece, I couldn't really recommend this, especially to someone who's just getting into sex toys. For a few more bucks, you can get something rechargeable by Fun Factory.
Maybe I'm just super jaded but the L'amour Passion G is just utterly forgettable. I don't see why California Exotics needs two lines of remarkably similar silicone vibrators.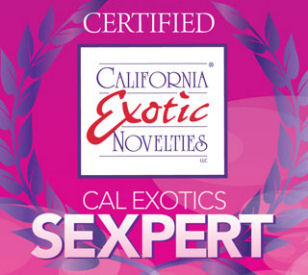 ---