So, there's something that I realized lately. Namely: that I like to give away stuff. I have everything I need. No, I have more than I need, and that's pretty awesome. I mean, I have been doing this reviewing thing for almost four years. Can you believe it's been that long?
With an upcoming move, I've been clearing out my drawers. I've literally given away barely-used luxury sex toys for just the price of shipping. I am just that awesome, right? I can't do that for every blog reader, but I can host giveaways, with the help of sponsors like Relaxation Inc, that give at least every one of you the chance to win something. This time around, I picked a glass dildo, because I like glass, and because I think this specific dildo is pretty.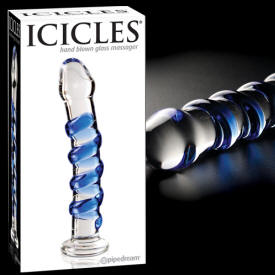 It features a slightly-bent, clear shaft that is wrapped with a blue ridge. A flat base makes it safe for anal play and possibly compatible with your favorite harness. Warm, cold or somewhere in-between, it works. And, the Icicles line is really affordable. If you simply wanted to buy this for yourself, it's not much more than $20. Of course, here's your chance to win it.
For each entry type, leave a comment. If your comment includes an URL and doesn't show up immediately, it went into the spam queue. Yes, I got it. You also don't need to post your email address in the body of your comment. That's super unsafe guys, let's keep you spam-free!
Head over to Relaxation Inc and tell me what would relax you. –Mandatory.
Leave a relevant/thoughtful comment on any other recent (three months or so) post. Leave a comment here with a link to your comment.
Follow me on Twitter and tweet about the giveaway (once daily). For example: Adriana s giving away an Icicles No. 5 Dildo . Visit of Sex and Love to enter http://ofsexandlove.com/?p=4196 Ends 8/10
Stumble/like this post on StumbleUpon (you can find a handy Share/Save widget on every post page that allows you to submit this post to social bookmarking sites).
Blog about this giveaway, including a link directly to this post.
Subscribe to my feed via email. With my new FeedBurner URL, you can receive updates straight to your inbox. Comment with the email address you used on FeedBurner for this to count!
Giveaway is open to Continental US.
Good luck and thank you for entering!
---
78 Comments to "Icicles No. 5 Dildo Giveaway"
Trackbacks & Pingbacks