Now, there are a few toys that everyone seems to rave about in their reviews. The Bent Graduate is one of those toys and, interestingly enough, it's not by a luxury sex toy company. Indeed, this glass dildo that is intended for G-spot stimulation is by Don Wands, a company that has their hand in glass dildos as well as a few other projects. When Erotic Toy Town contacted me, wanting to know if I'd write a review or host a giveaway, I thought this dildo would be perfect for my readers.
It features a ridged end for more intense stimulation and an end with a contoured head with a straight shaft. The dildo bends at about a 40 degree angle, so you can always use the free end as a handle. Of course, the pink glass won't be everyone's style but it does offer rigid thrusting and rubbing possibilities.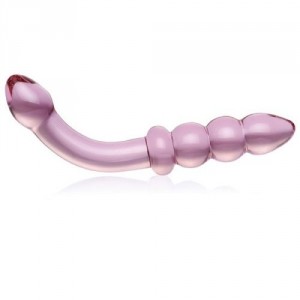 If you'd like to win your very own Bent Graduate, keep reading! I want one comment for each entry type. Some entries are allowable once per day, like Twitter. Please do not leave your email address in your comment body as this is unnecessary. I can see it just fine as long as you enter it into the form!
Tell me the one feature of this dildo that makes you want it. –Mandatory.
Leave a relevant/thoughtful comment on any other recent (three months or so) post. Leave a comment here with a link to your comment.
Follow me on Twitter and tweet about the giveaway (once daily). For example: Adriana s giving away a pink Bent Graduate Dildo courtesy of Erotic Toy Town. Visit of Sex and Love to enter http://ofsexandlove.com/?p=3991 Ends 5/15
Stumble/like this post on StumbleUpon (you can find a handy Share/Save widget on every post page that allows you to submit this post to social bookmarking sites).
Blog about this giveaway, including a link directly to this post.
Subscribe to my feed via email. With my new FeedBurner URL, you can receive updates straight to your inbox. Comment with the email address you used on FeedBurner for this to count!
 Giveaway will end on May 15 and is open to residents of the continental US.
---
61 Comments to "Pink Bent Graduate Giveaway"