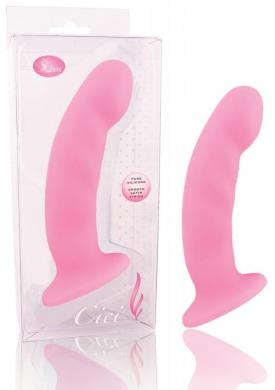 Cici
$16.70 from
Store.OfSexAndLove.com
I was pleasantly surprised by Cici. Its design evokes Tantus' silicone dildos, but it's pretty small. For some reason, I forgot that I love small toys. I don't know what's up with that. So, I think you can guess that I actually found Cici pretty effective, despite the fact that it's only a little over 5″ long and 1.5″ in diameter. In fact, I'd say it probably feels smaller than that, probably because the width is about the same all the the way through.  There's a slightly contoured head, but it's not so extremely that you have to work your way up to it. There's no major tapering or growth in size. I tried this after the horribly rigid Vanity vr 4.5, though, so that probably affected my perfection.
One thing I noticed right away is that the gentle G-spot curve makes this thing falls over. It may be silly, but I like toys that can stand up on end. Blush could improve Cici, maybe, by using a suction cup type base instead. Otherwise, the base provides a steady place to hold this dildo, and it always works for strap-ons; although, Cici doesn't come with one.
The silicone is definitely firm for you to be able to control where this dildo is going. I'm not a huge fan of dildos that are so soft that I have trouble inserting them. In fact, once I lubed this up a bit, the head quickly pressed against my G-spot, and I was able to squirt within seconds. There's a tiny bit of give if you squeeze this dildo in your hand, but the core is firm enough for thrusting or simply holding in place. It wasn't so firm that it molested my cervix, however. This is good news, because it was feeling especially sensitive the first night I tried it. Sometimes I just need something small and a little soft, and Cici fit the bill.
So, I'm not quite gushing about this dildo, because I do like the feel of the softer silicone better. However, it did make me gush. The silicone is slightly more shiny than velvety. The manufacturer calls it satin–whatever that means. The material is best used with water-based lube, of course, but you don't have to worry about phthalates. You can even bleach or boil to clean it well enough to swap between partners or holes, which is one of the pluses if silicone. Unfortunately, Cici will collect lint just as well as any of your other silicone toys, and this one only comes in a plastic box that you'll probably throw away. A storage bag would be a nice option, in my opinion.
I would recommend Cici to anyone looking for an affordable G-spot dildo. If you're not sure that this type of stimulation will work for you, you don't need to spend a whole lot on the Cici. You could even get two or three of them for the price of any G-spot vibrator.
---
Trackbacks & Pingbacks