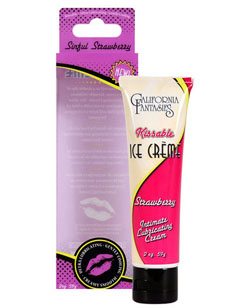 Kissable ice cream
$11.13 from
Store.OfSexAndLove.com
At first, I confused California Fantasies with California Exotics but it's a lesser known manufacturer which made the Kissable Ice Creme in strawberry which I had a chance to try. This cream is really a multitasker which promises to cool and lubricate while allowing your partner to taste its flavour when he or she goes to town on you. This product does succeed in a lot of ways, I am happy to say and the 2oz squeeze tube is pretty sizeable. It reminds me of a hand cream tube and there is a lot more product than any other sensitizing product I've tried.
Let me start by saying that this is not a lubricant. It's a thicker cream which will quickly rub into the skin and while the taste remains, it has virtually no lubricating properties. It may moisturize but my vagina doesn't really need that, I don't think. Plus, the ingredients list contains both alcohol and sugars which can cause irritation for some which leads me to believe that this product would better be labelled as a sensitizing cream than a lubricating one.
The ingredients, as listed on the tube are:
de-ionized water
caprylic/capric triglyceride
octyldodecanol
glyceryl stearate
PEG 100 stearate
Emulsifying Wax
polydimethyl siloxane
decamethyl cyclopentasiloxane
cetyl alcohol
tricethanolamine
glycerin
sodium benzoate
diazolidinyl urea
potassium sorbate
polysorbate 20
hydrogenated collagen
methylethyl cyclohexyl
propanediol
flavor
carbomer
disodium EDTA
sodium PCA
Sodium Saccharine
It's a long list and was painful to type up. While some of the ingredients I recognize, I wouldn't mind if there were simply less and if there were fewer salts and sugars to boot. While cooling products usually contain some sort of menthol as the active ingredient, I am not sure what it is in the Kissable Ice Creme that makes it work.
As a sensitizing cream, Kissable Ice Creme passes with flying colours. It feels cool immediately and grows slightly cooler but not so much that it makes me uncomfortable like other cooling products I've used. It doesn't quite tingle but I can feel the area to which it is applied growing more sensitive. This is a positive attribute when used on the clitoris but I would like to remind you that this product is also intended to be kissable which means your mouth, including lips and tongue, will become extra sensitive, too. Depending on your personal preferences, this may not be a positive thing. I find it a bit interesting but not necessarily distracting. I did not experience any amazingly powerful or easier orgasms while using this cream but my awareness was definitely heightened.
The Kissable Ice Cream is flavoured and scented. It's definitely sweet and more of the unnatural strawberry "flavour" as opposed to tasting like real strawberries. The taste will grow weaker as it is licked away (although, the thick cream does stay in place well) and it does seem to have a bit of a sugary aftertaste. It's not horrible but it is a little.. different. Fluids and a person's natural taste may alter the sensation, of course. The scent is very sweet as well and gives you a good indication of how it will taste.
It does remove cleanly with licking or washing without leaving residue and even when it's on your fingers, it feels creamy and soft without being greasy. Because it is thick, it stays where you put it and you do not have to worry about it dripping on your linens or carpet but, as it is water based, I do not think it would stain anyway.
In fact, since I bought it to use as a sensitizing cream and not a lubricant, I can't really say that are a lot of strong negatives about the Kissable Ice Creme from California Fantasies. It does what it says in a noticeable but not overpowering way and I like that it does not smell or taste like mint because I am not a fan. Not everyone will love the taste (although there are also Cola and Colada flavours available) but I found it to be decent in the limited quantities I'd be using for play time anyway. I would like to see an ingredients list which isn't quite so terrifying but I haven't experienced any adverse reactions and do not intend to use it internally so I am really pretty satisfied with the Strawberry Kissable Ice Cream.
---
Trackbacks & Pingbacks