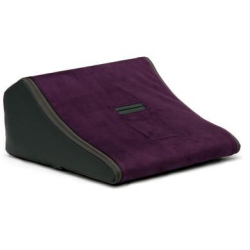 Love Bumper Iceberg
$89.00 from
Good Vibes
The Iceberg, by Love Bumper, was my first sex pillow. People love Liberator position pillows, even though they seem so simple. Folks are always talking about them and claiming that they really improve their sex lives so I requested this pillow from Good Vibes.
Initially, I was shocked by how firm this is. I wasn't expecting a fluffy bed type pillow, maybe a thicker couch cushion but the Iceberg is much firmer than that, still. It'll compress a bit under body weight but it's pretty study and will definitely give you a boost. The Iceberg came without any packaging or additional information. I Googled the company website for position ideas and there were a few.
The Iceberg is.. sort of four sided. The bottom and back are straight and meet at a right angle while the longer side on top curves away from the body and the top of this panel meets a fourth, narrow side. Refer to the image to un-confuse yourself. d= The curved side features a small pocket (1 1/2″ x 2-3″) where the user can insert a vibrator. For whatever reason, Love Bumper recommends Lelo vibes but I have no idea what would make those vibes more suitable for this pocket. I used a small, straight vibrator with a bulbous head. Maybe it would work better to use a vibe whose shaft curved similarly to the pillow but I don't see it being a big deal. What I can say, is that electric vibes probably won't be ideal, nor would bullet vibes (they'd completely sit inside the pocket and it would be difficult to adjust during use). Any vibe with a button on the end of the base will require you to turn it on before use. A toy with a remote control (wired or wireless) might be your best option.
The body, especially the female body, is meant to press against this side so the vibe offers clitoral stimulation. In use, I found it a bit difficult to comfortably rest against the foam pillow and feet the vibrations for a couple of reasons. First, the angle that provided the best stimulation was hard on my hips because of the firmness of the pillow. Secondly, I've got a fleshier mons so the vibe didn't necessarily get right up against my clit. Your mileage will vary, I'm sure, depending on your anatomy.
The most obvious uses of the Iceberg are to aid rear entry or oral (with the pillow raising her hips). Using the pillow in the same position as oral, could also work for edge-of-the-bed (sofa, etc) sex or regular missionary to enhance G-spot stimulation. I tried it for doggy style but honestly found the foam a little too firm for comfort. Combined with personal issues, I haven't used it as much as I'd like.
However, if I did use it and abused it, I could easily remove the "polysuede" microfiber cover to toss in the wash. It attaches securely via zippers on the sides and velcro on the bottom (in fact, all of the sewing seems pretty quality and the pocket is even lined with a pleather-y material). This part of the Iceberg is available in red or purple. The sides are not removable, however. It's like likely for these areas to see lubes and liquids but I wish the whole thing had a removable cover. Instead, the material reminds me of pleather. I'd wipe it down with a damp cloth if I needed to, however.
The Iceberg is not a giant pillow. It could fit under some beds or in deep drawers(it's 13 3/4″ wide and 13″ high at the tallest). You could probably hide it in a closet pretty easily and there's position for it to be used outside of the bedroom, if you want, so no need to hide it at all.
My first impressions of the Iceberg by Love Bumper do leave me a little wanting. I will definitely have to give it a few more tries before making my mind up for good, though.
---
One Comment to "Love Bumper Iceberg"