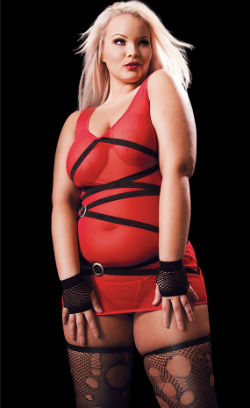 Material Girl Fetish Fantasy Lingerie
$36.99 from
SheVibe
oor Every Mistake A Lingerie Manufacturer Could Make.
I can't even pretend that this was a success. I mean, I knew its form-fitting nature would be a risk with my shape but I didn't also realize that it was a design disaster.
Let's start with what I don't hate. The fingerless fishnet gloves. Now, you might be thinking "fingerless gloves are the show-stealer?" and, I kid you not, it's the truth. They're simple: a tube with one reinforced end for around the wrist and a small hole on one side for your thumb. The end that slips around your arm/wrist is reinforced, I guess, to keep it from moving. However, these are comfortably snug on me so I don't see them going anywhere. On the other hand, if you have large wrists or hands, they might be too snug. However, there's stretch. In fact, these gloves can stretch to around 8″ in length or wear them a little shorter. I tend to pull mine up about 1.5″ from my wrist or about 5″ long.
Both the thumb-hole and edge around the hand are slightly reinforced so they won't rip.. but one glove is actually ripping at the hem or perhaps was never sewn on correctly. So don't expect those reinforced edges to do too much. For some strange reason, Pipedream felt the need to sew a (black) tag into one of the glove. Hand wash cold, you guys. I mean that information is sort of useful but tags on see-through stuff.. I'm so over it.
Anyway, I could see myself stealing these for a costume or different outfit.
So while I don't love the actual, thigh-high fishnets, they're not as awful as the chemise itself. It's a basic pair of fishnets with about a 1″ elastic band at the top. They're definitely meant for someone taller than 5″2, as I could pull them damned near up to my crotch. Still, with a little adjusting they are passable. The fishnets do not come ripped. Thank-whoever-you-want-to-thank. Because then I'd have thrown them out. Like the gloves, I could also see myself wearing them with someone else or pairing them with a garter belt.
For a queen size, though, the fishnets seem a little small. They measure 6″ in diameter, flat. They stretch to about twice that, which just doesn't seem that large to me. The stretching causes them to cut into your skin. A thicker band at the top would definitely be more flattering. Even the "one size" model is overflowing from the fishnets.
I suspect they're also lower quality than fishnets I've worn in the past. In fact, the box tells you to rip them as you desire so they would have to be. As the netting itself stretches out, you can see the fibers that make it starting to pull away from one another, like a strand of Christmas lights that's seen one decade too many (-cough-don't look on my patio-cough-).
But they're usable.
I wish I could say as much about the chemise. Actually, I don't. Writing this review is fun!
So, it was a risk. I knew that but I even though the way those straps on the chemise looked on the plus-sized model was sort of flattering to your tummy and I'd hoped the same. I was also encouraged by the fact that this is available in three sizes: one size, queen and diva. I was hoping this would provide more realistic sizing options even though it's still in a range.
I was wrong. Dead wrong. So so wrong. Wrong baby wrong. Yea, we hear you Martina McBride, Depeche Mode. I usually wind up on the just-shy-of-plus-side end of things but if this is their queen, if this is what they think will fit ladies in sizes 16 through 20 they're on fucking crack. Maybe that's why they're so keen of ripping fishnets. I don't know.
So the chemise itself is pretty snug on me. It smooshes my C-cups in ways that are completely not flattering with the sheer mesh (also hand wash, cold). There isn't any support, per se, but surely larger women could benefit from this chemise binding pushing their breasts into their backs? (Ha!). And, if you have some extra tummy; look away. I do not know how it flattered the model so well but it does not on me.
There's also this really weird thing. I cannot get this thing down over my ass. It's super fucking short. Like, dude, I'm 5'2″ and who knew Pipedream was making Hobbit lingerie, right? I can only imagine how much worse it would be for taller ladies.
Okay, but the big issue — and I mean really big — is the straps, while visually interesting are just full of what-the-fuckery. They're all stretchy (more-so than the chemise) and adjustable and while this sounds good.. it's actually a ridiculous hassle. When I pulled this over my head, they all bunched above my boobs and then I had to try to find the chemise to pull it down and then I had to pull down every strap and try to situate it. Yours may not bunch up over your boobs; I can imagine it bunching up right under the boobs, depending upon how far you pull it down but it's not easy to put on. That's where I'm going with this.
After I spent a bunch of time adjusting the front straps — and it still looked mediocre at best — I realized I had to do the same in the back. Except my short arms were no good at it so I said "Fuck it" and let them fall where they hideously may. I really think it would be better to have sewn the straps into place to avoid all this mess. Would it have hindered the stretchiness of the chemise? Yes. Then again, it's not sized correctly anyway.
Now, there's those little buckles in the pictures and the different models wear them at different locations so I thought I'd try my hand at adjusting them. I figured this would slightly change the position of the straps and allow me to hide trouble areas but, once they're stretched out, they become nearly impossible to move. They slide easily when you're not wearing the piece but it's a different story when you're not. Of course, how do I know where I want the buckle to sit on stretchy straps when I'm not wearing it?
Last complaint, I promise. These pieces come in a sturdy cardboard box. Each is then in its own bag and the fishnets are each wrapped around a pair of paperboard. It's wasteful and who needs a an actual box for their lingerie? Shit's not precious is all I'm saying.
---
3 Comments to "Material Girl Fetish Fantasy Lingerie"
Trackbacks & Pingbacks