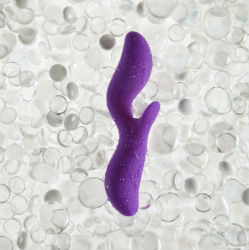 Vanity by Jopen #4
$105.95 from
FunWares
FunWares was kind enough to send me the VR-4. This marks the third Vanity by Jopen rabbit that I've tried and the third that I didn't like. All the shapes are just slightly different enough that I find it hard to figure out which would work for me. The Vr. 6 was extremely rigid. Like Lelo's Ina, it was a little pinchy.. but I liked the vibrations.
The Jopen #4 actually differs in that the neck of the shaft is quite flexible so you can experiment a little more with positions. This means it may work better for a variety of users.. or so I'd guess. The head of the shaft is a rigid silicone, however, so you can still get pressure where you need it.
The shaft is also more angular, too. First, it curves backward to accommodate the pubic bone. Then is curves forward, toward the G-spot. The very tip curves very slightly back once more. In use, it really presses up against the G-spot. This is good for squirting — I did a lot — and makes me feel fuller but the angle isn't so good for thrusting. I find myself having to be a little more careful. #4 provides direct stimulation in the way that's best for users who like to hold a vibrator against their G-spot. The angles make the 3.5″x 1.5″ shaft feel much larger than it is, in my experience. My cervix is a little unhappy.
The insertable portion runs on its own motor that is powered by a single button. I've described that in detail here so I won't do it again. I like it but I'm not used to it. Every time I reach for a Jopen toy, I have to relearn the buttons. Unless CEN plans to make all its toys operate in this manner, I think maybe it should consider not reinventing the wheel.
The clitoral arm is also more flexible. It doesn't seem to have the motor right in it but just under it so the vibrations here are weaker than I recall the Vr 6. The silicone provides a firm but flexible stimulation that I would like, except the arms just too damned short for me. It measures just over an inch long and is about 4/5″ wide. It probably wouldn't provide the broad pressure I like if it did reach, though. The clitoral stimulator gets its own button. See above for my thoughts.
Overall, the Vanity by Jopen #4 seemed a little less powerful than other Jopen vibrators. This especially noticeable in the clitoral arm. At times, the shaft motor also seemed jerky. This isn't something I've experienced before and it's not a deal-breaker but it's interesting enough to note.
Like the other toys in the line, this toy is rechargeable (there's a light on the toy itself to indicate status) and comes with the adapter and a super large storage bag. I mentioned it before, but it's so stretchy that it's almost unwieldy. I'm not a fan. Jopen vibes are all waterproof, made of non-porous silicone and not compatible with silicone lubes.
The flexibility is the strongest feature of the Vanity by Jopen #4. I like how it creates more room for the pubic bone, too but it does so in a way that presses toward the back vaginal wall and I don't like that so much. If you want a decently powered vibrator and think that this one will fit your proportions, you could do much worse.
---