I love that Good Vibes allows reviewers to pick items for review or giveaways. This is totally awesome because I can be an active member of the review team, even if I do not personally want one of the items up for grabs. Of course, this also means that you, my precious reader, have the opportunity to try something new!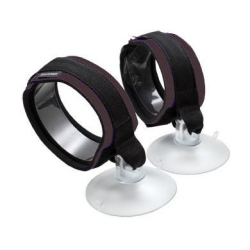 So I'm glad to offer up a pair of sexy suction cuffs to one of my lucky creative readers. All you have to do for this one is to leave me a comment with a short story involving these cuffs. It can be a realistic portrayal of how you would use them or a fantastic narrative that has absolutely no roots in reality. It's up to you.
These cuffs are made of Neoprene and secure with velcro. The suction cups themselves are ABS plastic and have a diameter of 3 ¼" diameter . The cuffs measure 11" x 1 ¾".
The Fine Print
Please keep the stories under the 200 word count limit
Only one story per person
You have one week to enter this contest
Earn up to 5 additional entries for Tweeting about this contest: Click to win Sexy Suction Cuffs from @GoodVibesSF and @adriana_r http://kxk.me/supersexysucking Ends 9/11
Earn 5 more entries by blogging about this giveaway. Link back to the post and, if you wish, your comment entry. You can repost your entry on your own blog!
---
22 Comments to "Super Sexy Sucking Here"
Trackbacks & Pingbacks