What is a reviewer to do when she accidentally requests the item from two companies? Why, she gives one to her readers, of course! So I will be giving away my second Ultimate Satisfier to one reader who wants to give it a whirl.
If you recall my review, you'll notice I really liked the way this hugged my pubic bone and the G-spot stimulation was consistent. The handle was an interesting addition and would make thrusting easier for anyone who enjoys it. The elongated bullet is waterproof and the vibrator doesn't require watch batteries, either!
But wait, there's more! (Billy Mays style)
I've also been alerted of a brand new graphic novel-style sex advice manual from Kidder Kapper, with illustrations by Josh Lynch, and while I am not familiar with his podcast, I think the idea to combine practical advice with this graphic style is super interesting.
Sex is Fun! has the subtitle "creative ideas for exciting sex" and in it, you will find tips for: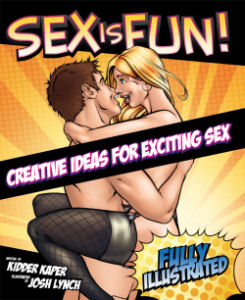 Talking dirty
Writing a sexy letter
Making sexy movie
Fun with blindfolds
Giving massages
Introducing food to your love life
Role playing
And more
Penguin Publishing and Avery have come together to create this book for people of all ages and experience levels, including:
The newly-wed couple just married and worried that they will lose interest in each other once their novelty wears off.
The single guy looking to spice up his mojo.
The single girl who has always had questions about toys but was too embarrassed to ask.
The couple together for many years who know a thing or two about hitting each other's sweet spots …but want to spice it up a bit.
Interested in either of these items? Go ahead and leave me a comment explaining either or both of the following:
Why do you think you would like the Ultimate Satisfier?
How do you think

Sex Is Fun!

can spice up your sex life?
You can increase your chances of winning by Tweeting, too! Something like this will do:
What do vibrators and graphic novels have in common? @adriana_r is giving away one each in her #2foryou contest! http://tinyurl.com/2foryou
And if you want to blog about it? Great! Include the link to this giveaway in your post and leave a separate comment when you do!
I will pick the winner a week from today. Rather than using a point system, I'm simply playing this one by ear and will award the prizes to the person(s) who wants it most!

Sponsored by SexToy.com, one of the biggest selections of sex toys, including G-spot vibrators online.
---
34 Comments to "Two For You"
Trackbacks & Pingbacks