Lately, I've been hosting giveaways for things I've tried. I like it when I can offer my readers toys that I've used and loved before but I thought I'd go in a different direction this time. I haven't had a lot of time to play with electricity. I'm super turned on by the idea but also a little afraid, which is why I swapped for an electric vibrator that I've never used. I know, right?
Others are a little more bold than I am and, for you, I offer the Kinklab Neon Wand thanks to the folks over at FunWares. Now, I've tried a few Kinklab products before, including cuffs and their blindfold, so I know that this is an accessible brand for breaking into BDSM. It also appears that it's one with enough variety that you can stick with it as your experience and interest grows.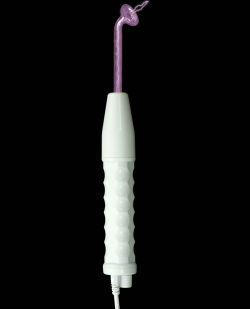 The Neon Wand itself is available in red, blue or purple. I'd get purple myself because, duh, I love purple. This wand promises to literally make sparks fly so you can get your kink on with a little electricity. By holding it just slightly apart from your skin, a strong static electric spark will jump to your skin from one of the four glass electrodes. Of course, the sparks themselves are visually appealing (but hard to photograph as explained by Mistress Kay) and appear the color that you choose.
The Neon Wand is great in a couple ways: it's price is super competitive, the electrodes can be sterilized, the box can be used for storage and it's not as strong as some other electrical toys so it may be even better for someone who is just becoming interesting in electricity. So whether you've never played with electricity or you just want to add to your  sex toy collection, consider entering this giveaway.
Please leave individual comments for each entry type.
Mandatory: Tell me which color you'd pick.
Leave a relevant/thoughtful comment on any other recent (three months or so) post. Leave a comment here with a link to your comment.
Follow me on Twitter and tweet about the giveaway (once daily). For example: @adriana_r is giving away one Kinklab Neon Wand, courtesy of @FunWares. Visit of Sex and Love to enter

Stumble/like this post on StumbleUpon (you can find a handy Share/Save widget on every post page that allows you to submit this post to social bookmarking sites).
Blog about this giveaway, including a link directly to this post.
Add FunWares on Twitter.
This giveaway will be open until February 29.
---
118 Comments to "Kinklab Neon Wand Giveaway"