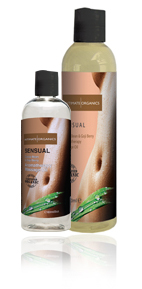 Relaxing Massage Oil
$11.37 from
Store.OfSexAndLove.com
When I picked Intimate Organic's relaxing massage oil to review, I was hoping the blend of lemongrass and coconut would be pleasant. I'm slightly less of a fan of lemongrass so if the coconut were the highlight, that would be awesome. Unfortunately, the lemongrass really dominates. In fact, I can't smell anything coconut at all. )= If you're unfamiliar with lemongrass, it's a sour-smell that is similar but not the same as an actual lemon. When you smell it, the name makes perfect sense. If you're a fan of lemons/citrus, this may better suit you than me.
The massage oil comes in a push-top style bottle. It's slightly yellow-ish in the bottle but appears clearer on the skin. It's quite thin but pretty slick so it stays on the skin. It continues to make it easier to manipulate the skin and body but does feel a little greasy if you're done massaging. Therefore, you'll probably want to wash your hands after using the Relaxing Massage Oil.
This oil is made with certified organic extracts; of course, this is no surprise given the name of the company (Intimate Organics). The ingredients list includes sweet almond oil, sunflower oil, coconut oil, goji berry ectract, lemongrass extract and aloe extract among a few other ingredients including the ever misleading "parfum."
I probably would have done better to try the Sensual Cocoa Bean and Goji Berry Massage Oil because I already know I like the scent but I did want to try something else. Unfortunately, I can't relax very well in an environment that doesn't please my nose but if someone (like, say, a hot nerd) was offering me a massage with this oil, I certainly wouldn't say "No." I would base your shopping decisions upon the specific ingredients rather than the purpose (sensual, relaxing, etc) with Intimate Organics products.
Thanks so much to IO for providing me with this opportunity!
---