Remember when I wrote that glowing review for the 25K Double Pleasure dildo? Well, I do! It was a fun review, and the manufacturer liked it to, so a second Joyful Pleasures dildo was soon in my paws. I chose this because the design seemed unique. It features five bulbs, but they appear almost angular in photos. It was something different. In person, the texture isn't quite was I expected, but it's still neat. Each bulb has a ridge around it, but it's not straight. It dips down in the back and comes back up to a point in the front. To better depict this, here's Disney's Bella in her golden ball down. It's like the details on the skirt of the dress: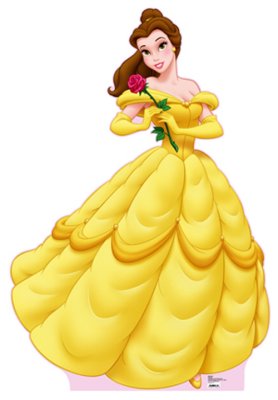 It's hard to photograph. I tried myself, but glass is always a little tricky, in my opinion. Anyway, the bulbs gently curve, making this a good G-spot toy. The shaft ends with a flat base. This dildo will sit up straight on your table; although, there's no suction cup, so it won't stay that way. The base make it safe for anal play and also offers a handhold for vaginal insertion. The shaft isn't centered on the base, though. In use, I found this didn't impede holding it; although, it'll feel slightly off center.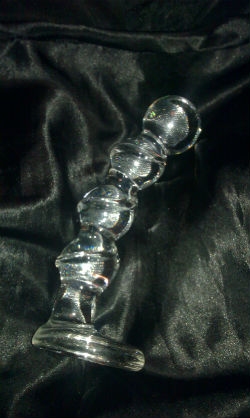 Aside from the slight ridges, all the glass is smooth, so you may not need a lot of lube. I didn't use very much myself. The shape of the bulbs and ridges isn't that large. The diameter is 1.5″ at the widest. Of course, the shaft tapers beneath the bulbs, and you can definitely feel them. This makes the Pure-Joy Pleasure a good option if you want an anal probe type toy. You can take as many bulbs as you want, or just stick to the first one as you work your way up to it. You'll get about 6.5″ of total insertion length, if you decide to go all the way with this one.
I tried this dildo only vaginally, and I didn't love it quite as much as my other Joyful Pleasures, too. It was easy to feel each bulb and the ridges. The rigidity allowed for pretty intense G-spot stimulation, but it just wasn't what I love. I think I prefer one defined head and a straight or gently curving shaft to all the activity of the Pure-Joy Pleasure.
Luckily, it's a pretty awesome toy, regardless. I could sterilize it with bleach or by running it through the dishwasher and give it to a friend or break it out of the toybox to try anal play in the future. Really, it's pretty enough that I could use it as a paperweight, although I wouldn't… Maybe you would.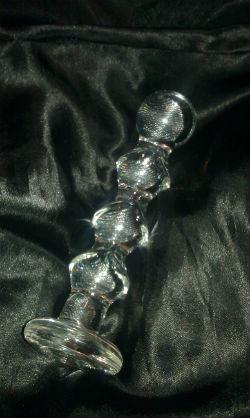 One thing I love about this is that it's super easy to clean. The slickness of glass is my friend. However, it does become slippery when cleaning or coated with lube, so you'll want to keep a steady grip on this. The base absolutely does help. I would love to see Joyful Pleasure offering some sort of storage option. Even a thin bag would be nice. I tossed out the box, because it's a little bulky, and I just don't have space for it. If you're really worried about your toy, then you might keep the box. I don't like to do that. I feel like it's mostly a waste of space.
So, would I recommend the Pure-Joy Pleasure? Absolutely! It's slick, weighty, rigid and well-made. It's available for less than $65 from MyPleasure, which is a pretty good price. It would make a great glass dildo if you've never tried one before, or an interesting addition to your current glass dildos. Plus, you can warm or cool it for a variety of sensations. If you want something versatile for vaginal and backdoor play, this is it.
---