I wish this site were an infographic because it has some interesting information.  In a recent issue of Wired, the researchers took a look at the BMI, cup sizes and other attributes of Playboy playmates and compared them to real women. Not surprisingly, the models have become thinner without losing breast size, while average women have become a little curvier.  The full graph is available as a PDF, which is better than the article itself.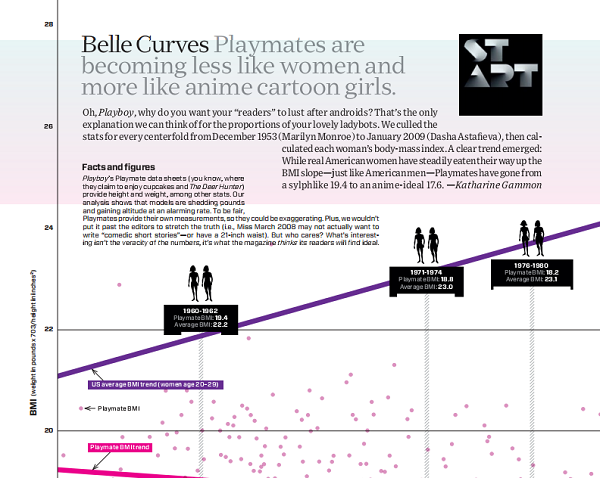 I want to simply nod and agree, but the thoughtful person inside me thinks this is problematic when women (and men!) make comparisons to ideals that are becoming further from average. It's a bit like the economic divide shifting. And while maybe you and I might not be that naive, plenty of people are. Men and women, especially young and impressionable minds, look at the media and don't realize how different it can be from every day.
I mean, how often do I really look at TV stars and think "they've had surgery and someone hand picks their clothes and they're wearing professional makeup?" Not often enough to stop comparing myself, that's for damned sure. And when it comes to sexualized images, I think the result can be even worse for one's self esteem. It's not just how appearance that people compare. It's behavior and interests and skills, so while this little study has a very limited focus, I think it's good that people are finally thinking about these things.
However, the lack of depth with which it was presented does leave a little to be desired.
---